Media Releases
Tanning tips for 5th Annual Tan Awareness Week, June 17-21
Tuesday, June 18, 2013
Tanning tips for 5th Annual Tan Awareness Week, June 17-21; Enjoy the sun, but don't overdo it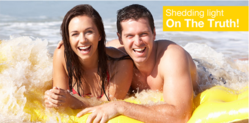 When tanning indoors or outdoors be Responsible. Everything in Moderation!
"Enjoy the Sun, but never sunburn!"
Kelowna, BC (PRWEB) June 18, 2013
As Canadians try to make the most of our notoriously short summer, the Joint Canadian Tanning Association (JCTA) is reminding sun lovers to tan responsibly.
The association, which represents professional tanning salons across the country, is offering educational advice to coincide with Tan Awareness Week, which runs from June 17 to 21.
"In Canada we want to be outside enjoying the summer sun any chance that we get but it's important to take some precautions," said Steven Gilroy, Executive Director of the Joint Canadian Tanning Association. "Tan Awareness Week lets us explain the proper ways for Canadians to enjoy spending their summer outdoors by doing just a little bit of preparation before stepping outside. Research has even shown that tanners independent of their tanning experience have a 'more relaxed and less tense mood' when exposed to UV light."
The JCTA offers the following tanning tips for anyone looking to enjoy the sun this summer.
  Base Tans: Building a gradual base tan in a controlled environment, such as a tanning salon, can increase natural protection against potentially harmful sunburn by up to six times. Gradual exposure to UV light in a JCTA professional member salon increases production of melanin pigment and thickens the outer skin, shielding it and enabling it to withstand increased sun exposure. This also starts producing vitamin D which is shown to help protect from skin damage.
  Sunscreen: Start with a golf-ball sized portion (35ml) of sunscreen and spread it evenly to all areas of exposed skin, allowing it to be absorbed. Re-apply at least every two hours. Use sunscreens with a Sun Protection Factor (SPF) of at least SPF 30. Combining sunscreen with a base tan will go to further help prevent burns. Remember if you don't apply this amount your sunscreen could only have an effective SPF rating of 2 to 4
  Know your skin type: Don't just assume that you know your skin type. By visiting a Professional JCTA Member salon, or visiting TanResponsibly.ca, you can find your skin type and determine how quickly you will burn. Factors such as eye and hair colour, untanned skin colour, medical history and other factors go into determining your skin type. Once you know more about your skin, you'll be better able to prepare yourself for the sun.
  How to tan: The best way to get a safe tan is to gradually increase your exposure and not spend too long in the sun at once. The most important thing to remember is to never burn.
For more information and tips on how to get a safe tan, visit TanResponsibly.ca.
About the Joint Canadian Tanning Association:
The Joint Canadian Tanning Association (JCTA) is a national non-profit organization created to increase understanding of the professional tanning industry's scientifically supported position that regular moderate ultra-violet exposure from sunshine or sunbed in a non-burning fashion is part of a responsible lifestyle that recognizes both the inherent benefits and the manageable risks associated with ultraviolet light exposure.