Media Releases
Stay in the Sun Six Times Longer with a Base Tan
Wednesday, April 10, 2013
Stay in the Sun Six Times Longer with a Base Tan
Joint Canadian Tanning Association recommends indoor tanning to build a base tan before outdoor vacations this summer. A base tan can give you up to six times the protection from sunburning in the natural sun.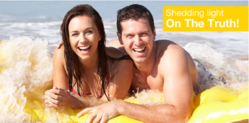 When tanning indoors or outdoors be Responsible. Everything in Moderation!
Base Tans Work
Kelowna, BC (PRWEB) April 10, 2013
After several long months of frigid cold and snow, many Canadians anxious to put the winter behind them have already begun planning their summer escapes in the sun.
Beach getaways, cottage vacations and carefree weekends on the golf course are just around the corner for thousands who have been counting down the days on their calendars.
But too much sun without a proper base tan can quickly take the fun out of summer holidays, says the Joint Canadian Tanning Association (JCTA).
The association says those planning to enjoy the outdoors this summer should first protect themselves by going indoors to professional tanning salons to develop a natural base tan through responsible exposure to Ultra Violet light.
"Building a gradual base tan in a controlled environment provided by our member salons can increase natural protection against potentially harmful sunburn by up to six times," says JCTA Executive Director Steven Gilroy "A base tan adds a foundational layer of sunburn protection, increasing the effectiveness of sunscreens applied to the skin."
Developing a base tan prior to sun vacations through UV exposure at indoor tanning salons protects against sunburn by increasing production of melanin pigment and thickening of the outer skin , which shield the skin and enable it to withstand increased sun exposure.
Trained and industry certified operators at a JCTA professional tanning salons develop tanning schedules for clients to ensure they are able to build base tans gradually and responsibly. Typically, it takes a minimum of 10 tanning sessions over at least three to six weeks to develop an effective base tan, the JCTA says.
"The greatest thing about a good base tan is that it's all-natural protection, unlike chemical sunscreens that can contain ingredients which have been found to be harmful," Gilroy says. "An added advantage is that base tans don't wear off like sunscreens, if you go swimming or sweat in the heat."
Even with the added protection of a suitable base tan, the JCTA warns sun lovers who want to stay outdoors for lengthy periods to avoid overexposure to sun light by seeking shade, covering up with light clothing, using safe sunscreens and applying sunscreens correctly.
Please Tan Responsibly and know your Skin Type
About the Joint Canadian Tanning Association:
The Joint Canadian Tanning Association (JCTA) is a national non-profit organization created to increase understanding of the professional tanning industry's scientifically supported position that regular moderate ultra-violet exposure from sunshine or sunbed in a non-burning fashion is part of a responsible lifestyle that recognizes both the inherent benefits and the manageable risks associated with ultraviolet light exposure.